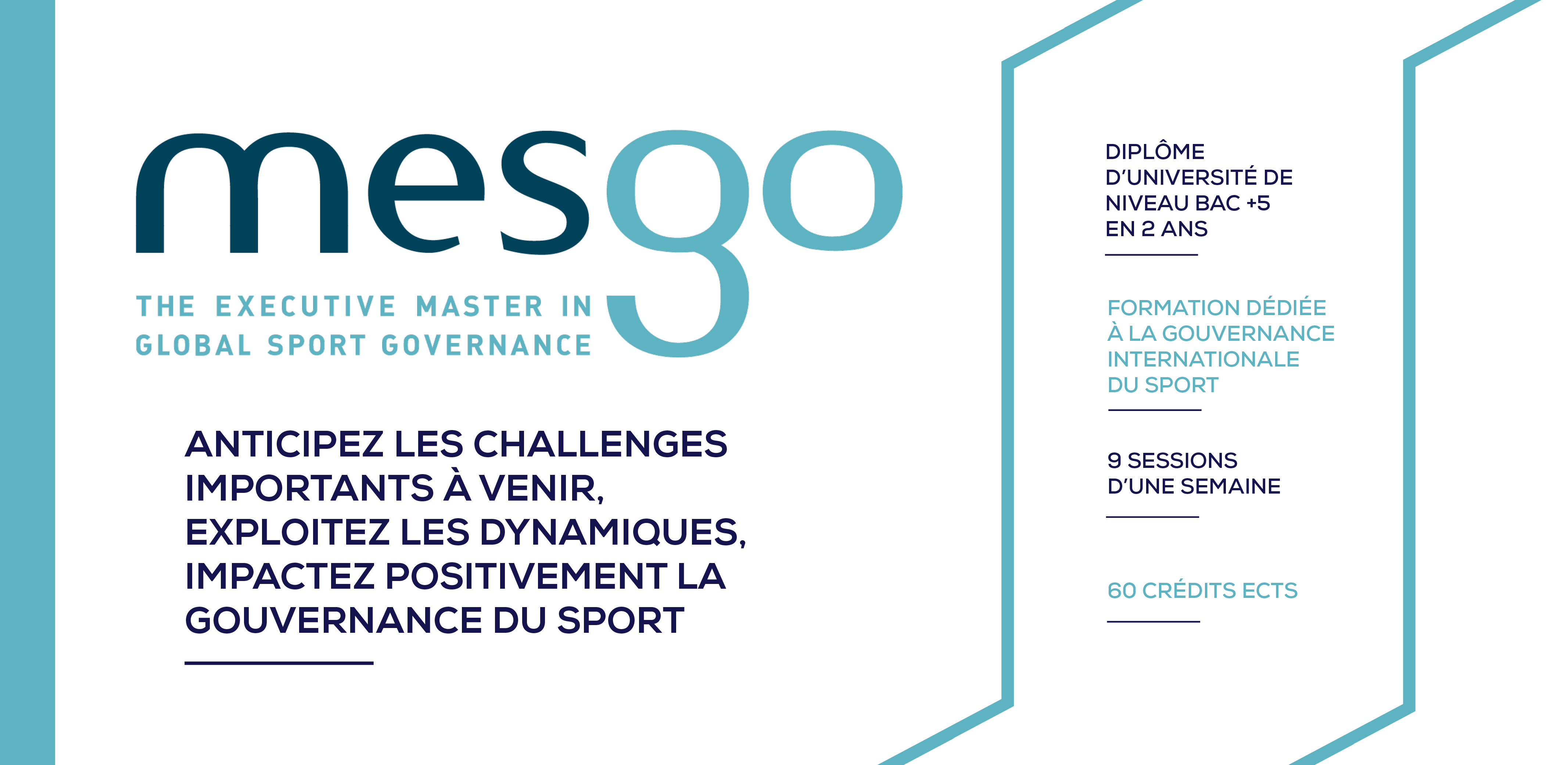 THE STRENGHTS OF THE MESGO
AN INTERNATIONAL PROGRAMME:
MESGO is a programme developed to embrace all nationalities. Although held exclusively in English, it emphasises the international dimension of sport, organising sessions all around the world in major sports cities in Europe, USA, and Asia.
A PROGRAMME DESIGNED FOR SPORTS SECTOR PROFESSIONALS:
The MESGO programme was created to respond to the needs of experimental decision makers in the sporting world. Leaders at the heart of national or international public authorities or partners from the sporting movement.
A PROGRAMME DEDICATED TO SPORT GOVERNANCE:
The sporting sector has profoundly changed these last years. MESGO anticipate current and future key challenges faced by sports organisations (specificity of sport, competitive balance, exploitation of commercial rights, social dialogue, match-fixing, doping, social responsibility, governance structure, etc.). It also exploits the dynamics around collaboration methods and positively influences the development of sport governance.
AN ACADEMIC PROGRAMME:
As with CDES' other programmes, MESGO combines professional experience and theoretical academic knowledge. To organise the sessions, University of Limoges work with the support of four top-level academic partners to guarantee participants an incredible academic input.
A PROGRAMME ORGANISED IN TIGHT COLLABORATION WITH UEFA:
The MESGO training programme is supported by UEFA and UEFA Academy, which take part in the organisation of the programme with the CDES.
WHO IS IT FOR?
The Executive Master in Global Sport Governance (MESGO) has already proved to be a crucial catalyst for key decision-makers in the sporting world (National, European, international federations, leagues, clubs and syndicates, European and national public authorities, media, sponsors…)
The program is for leaders and decision-makers, steeped in the principles of good governance, transparency, and international institutions:
National, European, and international federations
Leagues, clubs, and syndicates
Public authorities and European institutions
Sports movement partners (media, sponsors…)
HOW IS IT STRUCTURED?
Visits of major and international sports cities with lectures at the heart of sports organisations by their leaders and top managers.
DURÉE DE LA FORMATION:
9 one-week sessions divided over two years.
COÛT DE LA FORMATION:
€19,800 for two years. (including academic learning material, lunches and transfers within the cities visited. Please note that the tuition fees do not include travel and accommodation expenses.)